Introduction to the Agricultural Business
The Agribusiness program was established at the Faculty of Economics, Nong Lam University, Ho Chi Minh City in 2006. This program provides students with fundamental knowledge in business management, accounting, finance, and marketing, while also emphasizing advanced concepts in agribusiness management, supply chain management, agricultural risk management, and agricultural marketing. Furthermore, students are equipped with various skills, such as creative thinking, problem-solving, communication, data analysis, and adaptability, which are crucial for succeeding in the dynamic and competitive agribusiness industry.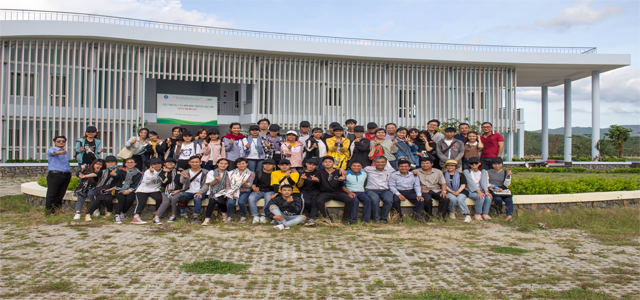 Internship of Students in Lam Dong province, 2019
To fulfill the program requirements, students need to obtain a total of 136 credits, with each credit representing 15 hours of classroom instruction, including theoretical, practical, internship, and thesis. The program is intended to be completed within 4 years, but students have the option of taking extra courses during the summer semesters or enrolling in multiple courses during a regular semester to complete their requirements earlier.


| | |
| --- | --- |
| Graduation Ceremony (Cousre 2015-2019) | After graduating from the Agribusiness program, students can pursue various career paths in the agribusiness industry, such as working in companies involved in the import and export of agricultural products, production companies, agricultural input supply firms, farms, and agricultural cooperatives. Graduates can also seek employment in government agencies related to agriculture, such as the Department of Agriculture and Rural Development or the Agriculture Office. Potential job titles include department head in a company (such as director of planning, organization, or marketing; team leader in production; or assistant director) or becoming lecturers and researchers at training and research institutions in the field of agribusiness. Additionally, graduates may choose to pursue further education in economics, business administration, and finance-related fields at the Faculty of Economics or other universities and institutes. |

The Agribusiness program at the Faculty of Economics is a highly promising field of study with a proven track record of high employability and stable income for graduated students.
Program:
Link Download The Agricultural Business Program, year 2018
Link Download The Agricultural Business Program, year 2020
Link Download The Agricultural Business Program, year 2022
Page count: 2374
Created : 22-07-2021
Last modify: 08-11-2023